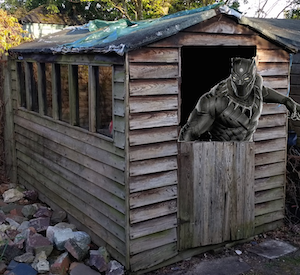 Black Panther (2018) is smashing records, delighting fans and critics and upsetting racists. Now it's the subject of the latest Cosmic Shed episode. 
Andrew and Ti explore themes of the film with shed guests Alex Lathbridge and Hannah Bestwick. Alex Lathbridge is a biochemist, science communicator and "the UK's best scientist turned rapper" and yes, we tested that. Hannah Bestwick is a science communicator who presents the Love and Science radio show and co-hosts the XX Science podcast.
We are also joined by Josiah Zayner to find out if we can drink potions and get superstrength. Josiah is most well known, perhaps, for injecting himself with CRISPR technology to get bigger muscles...Yes we asked him about that. He also runs a company called The Odin and is trying to bring genetic engineering to the public.
Can we drink potions to get big muscles? Will the shed experience its first rap? Why on earth did Josiah leave NASA? Will his Mum ever forgive him? Will Andrew? Is Black Panther as awesome as everybody keeps saying?
There's only one way to find the answer to all these questions; download and listen to this episode of the Cosmic Shed now.
Show notes
Josiah Zayner runs The Odin and was talking to Andrew and Maddy
Hannah Bestwick presents Love and Science on BCFM (with Malcolm Love and Andrew)
Alex Lathbridge mentioned Cheddar Man and the Why Aren't you a Doctor Yet podcast