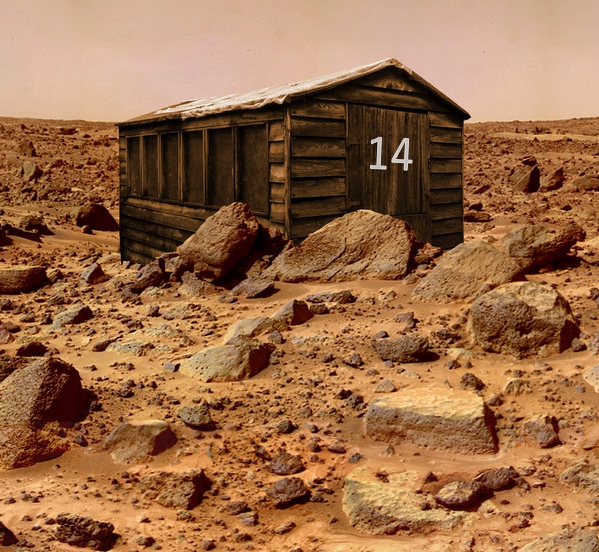 It's time to open Door Number 14 of The Cosmic Shed Advent Calendar. To find out who is behind the door, simply press play above or download the Cosmic Shed podcast to your favourite podcast app and listen at your leisure.
As always, we'll be putting some words and pictures here to make the identity of today's guest move further down the page to avoid spoilers should you wish to find out by listening. As you may have noticed, however, we've been posting some not so subtle hints about who is behind the door so, rather excitingly, here's a photo on Mars taken this month by the Mars Insight lander. (Yes, we're VERY excited too)

NASA's Insight took this "selfie" on Mars.
Behind Door Number 14 of The Cosmic Shed Advent Calendar is Dr Bob Myhill at the University of Bristol who has been working on the Mars Insight mission, looking at seismic activity on Mars.
Bob joined Steve to talk about this unbelievably wonderful mission which has already returned the first ever sounds of wind from an alien planet (which you can hear in this episode).

Dr Bob Myhill is talking to Dr Steve Bullock (of The Cosmic Shed)
Steve and Bob chat about Battlestar Galactica (the original series) and Battlestar Galactica (the considerably better series). They also mention that we had
a few days ago...

Battlestar Galactica's Tricia Helfer and The Cosmic Shed's Ti (behind Door 5 of The Cosmic Shed Advent Calendar)
Bob also discusses his love for The Expanse and Brandon Sanderson (Mistborn) and, of course NASA (and Bob's) InSight and the wonderful New Horizons 
show notes
We're loving the advent calendar. We hope you are too. Do tell your friends. We gain nothing from this but sharing our love of all things science and science fiction.