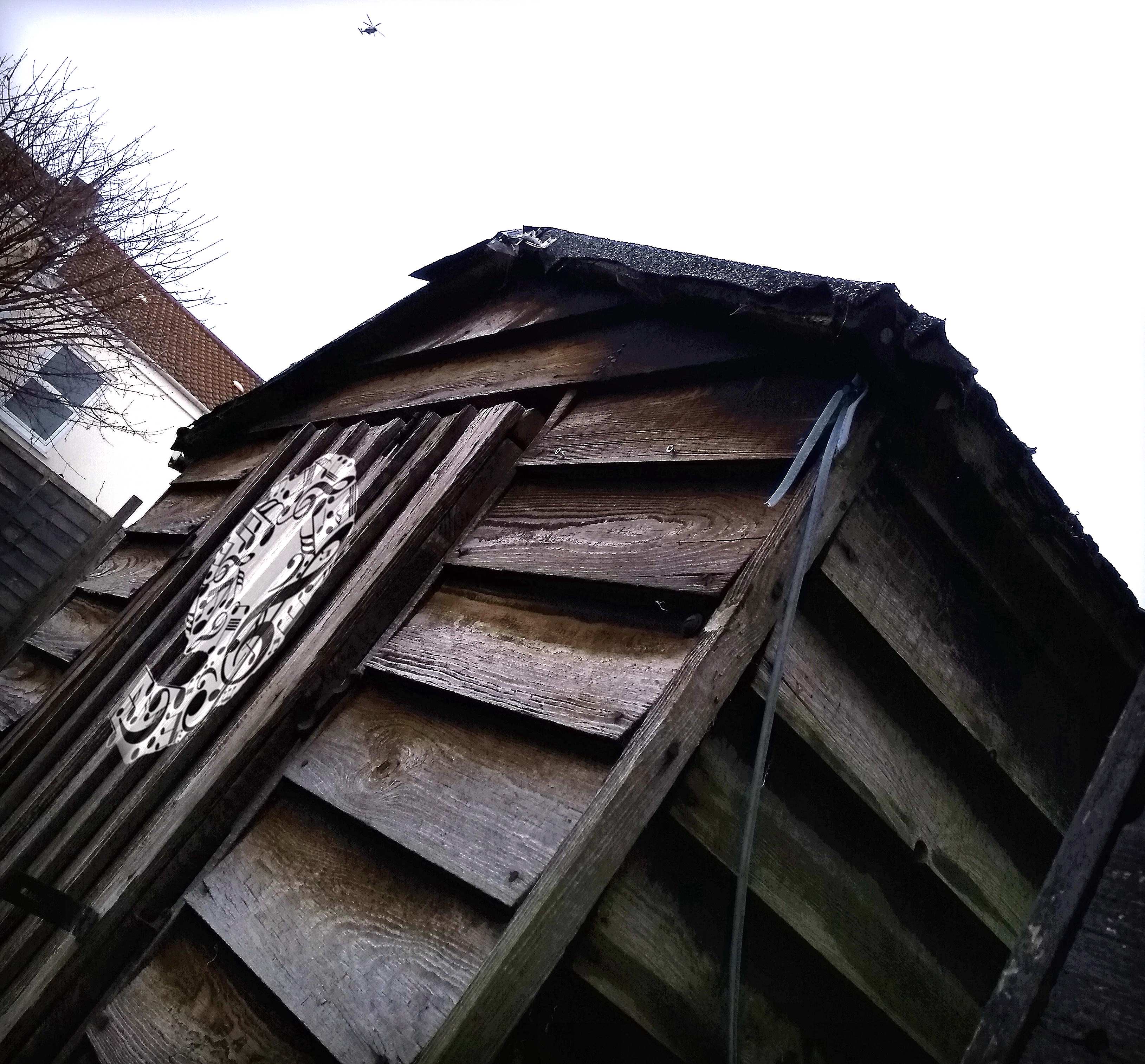 Behind Door 9 of The Cosmic Shed advent calendar is an old friend of the Shed from the early days back in 2015. It's sometimes hard to believe that we've been doing this for quite that long but it's been a whole lot of fun and we thank you all for sticking with us through everything.
To play this episode, simply press play above and let the identity of today's guest appear like the surprise only an advent calendar door can create.
The Cosmic Shed has remained its rickety old self, with the odd collapsed roof and broken door over the last three years but with guests like Chris Hadfield, Tricia Helfer, Jill Tarter, Benedict Cumberbatch, Nichelle Nichols and Lord Martin Rees, the podcast recorded in it punches far above its weight.
Here's a classic photo from the Cosmic Shed archive to push the identity of today's guest further down the page...to avoid spoilers.

Hattie Briggs in The Cosmic Shed back in the early days of the shed.
Behind Door 9 of The Cosmic Shed Advent Calendar is Hattie Briggs. Hattie is a singer, songwriter and multi-instrumentalist.Recently named Fender Undiscovered Artist of the Year 2017, she won the prize of supporting Lucy Rose at the prestigious O2 Shepherd's Bush Empire. Her music brings together pop, folk and electronic influences, which she delivers with honesty and intent. 

Hattie first joined us, alongside Chris Hadfield, for our episode on Gravity back in 2015 but you can also hear Commander Hadfield in our episode on Apollo 13. Listen to this special Advent Calendar episode of The Cosmic Shed to find out what happened when Andrew asked Hattie, "If you were on the International Space Station, looking back at Earth, what song would you sing?"
Maddy returns to the Shed this episode, having passed her VIVA for the PhD. Congratulations to Dr Maddy Nichols who now joins Dr Steve Bullock as the most academically decorated Cosmic Shed hosts. Andrew and Ti are too busy watching films, reading books and chatting to get PhDs...that's their excuse anyway.
show notes
You can find out more and buy music by Hattie Briggs here