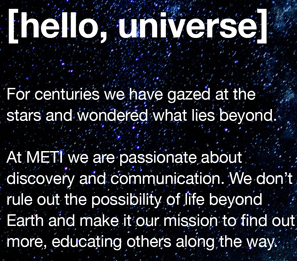 Noam Chomsky and Douglas Vakoch are in the business of universal communication. In the case of Doug Vakoch, it's literally Universal as he seeks to communicate with potential alien life out there among the stars.
Doug talks to the Cosmic Shed in this special episode about the language and forms of communication that might enable us to speak with aliens. 
Douglas Vakoch is the President of METI - Messaging Extra Terresttrial Intelligence
Noam Chomsky is co-author on a paper that argues that the universality of language that he identified decades ago might just extend out into the Cosmos.
Noam Chomsky - A Universal Language
Doug Vakoch was talking to Andrew ahead of a workshop organized by METI called "Language in the Cosmos," held on Saturday, May 26, 2018, at the International Space Development Conference (ISDC) in Los Angeles.
Is Klingon more human than alien? Would aliens sing? Would aliens speak Dothraki? None of these questions are answered but don't let that stop you listening to this brand new episode of the Cosmic Shed.
show notes
Douglas Vakoch joined us previously to discuss Star Trek Discovery
Andrew mentions our episode on Lost in Space